Traditional and Advanced Manufacturing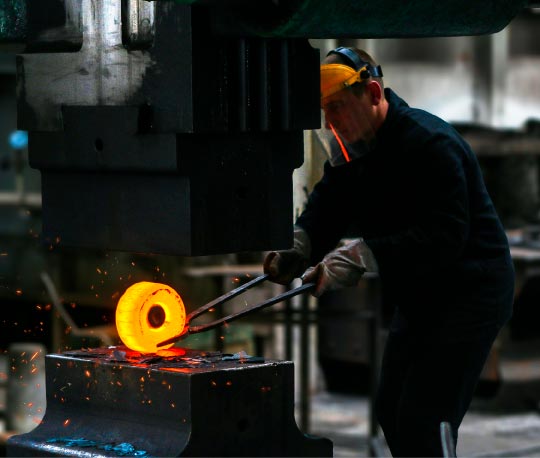 Abu Dhabi has a thriving manufacturing sector. Its strategic geographical position, advanced transportation and logistics infrastructure, favourable business conditions and strong support from the government have propelled the city to become a major manufacturing and export centre.
In 2020, the Emirate's industrial sector contributed 10.7 percent to Abu Dhabi's non-oil GDP.
Despite the global COVID-19 pandemic that year, 51 new industrial facilities were placed into production – 35 in Abu Dhabi, 11 facilities in Al Ain, and 5 facilities in Al Dhafra, with a total investment of AED 3.9 billion. https://added.gov.ae/Media-Center/
Market size
Today, manufacturing contributes AED 133 billion (USD 36.2 billion) to the UAE's GDP, and is projected to hit AED 300 billion (USD 81.7 billion) by 2031.(https://www.investemirates.ae/en/manufacturing) The sector benefits from the consistent commitment of the Abu Dhabi government in line with the Abu Dhabi Economic Vision 2030 (Abu Dhabi Economic Vision 2030)
Industrial manufacturing lies at the heart of several national-level initiatives such as 'Operation 300 Billion', 'Make it in the Emirates' ,and 'Made in Abu Dhabi' , which are all focused towards providing an impetus to the drive towards manufacturing and industrialisation.
Operation 300Bn
(https://u.ae/en/about-the-uae/strategies-initiatives-and-awards), Operation 300Bn was presented in 2021 by The Ministry of Industry and Advanced Technology and aims to position the UAE as a global industrial hub by 2031. The 10-year comprehensive roadmap focuses on increasing the industrial sector's contribution to the country's GDP from AED 133 billion in 2021 to AED 300 billion in 2031. The strategy supports spending towards local products and local suppliers, as well as promoting investment in research and development and incentivising the adoption of advanced technology in the UAE. Operation 300 Billion concentrates on boosting production in 11 priority sectors including petrochemicals, plastics, and metals, and further developing food, water and healthcare industrial bases, as well as supporting the growth of national industries, attracting foreign investment, and ensuring availability of financing for local industrial companies.(https://www.thenationalnews.com/business/2022/06/21)
Make It In The Emirates
(https://u.ae/en/information-and-services/business), Make it in the Emirates is an open invitation to investors, innovators, and developers to contribute to the UAE's industry and advanced technology strategy, 'Operation 300bn.' The Make it in the Emirates campaign promotes the uniqueness and quality of locally made goods and encourages local and international investors to manufacture and export products. Recently, Abu Dhabi National Oil Company (Adnoc) identified AED 70 billion worth of products in its procurement pipeline that could be manufactured locally and signed agreements for opportunities worth AED 21 billion.(https://www.khaleejtimes.com/uae). The agreements will allow companies to set up and expand manufacturing facilities in the UAE as well as jointly explore with Adnoc the potential for new investments in local manufacturing. Over 100 products with local manufacturing potential have been recognised and are spread over drilling; mechanical and heating ventilation and air-conditioning (HVAC); technology; piping, fittings and valves; electric submersible; instruments, control and telecom; maintenance, repair and operations; chemicals; electrical; and offshore architecture.
Made In Abu Dhabi
Abu Dhabi's Department of Economic Development (https://added.gov.ae/) launched the 'Made in Abu Dhabi' campaign (https://www.added.gov.ae/Media-Center/Business-News), to promote trustworthiness of products made in the Emirate. The USD 100 billion trade initiative sees that the Made in Abu Dhabi brand be added to all industrial licences issued to factories and manufacturing companies in the city. The initiative aims to place the Made in Abu Dhabi brand on 3,340 local products from about 888 factories, with a total investment value of AED 369.32 billion (USD100 billion). (https://www.arabianbusiness.com/gcc/saudi-arabia/)
Manufacturing Sectors
The manufacturing sector is a key component of Abu Dhabi's economic diversification efforts. Priority fields have been identified to stimulate growth and boost competitiveness, foster clean energy economic solutions, and create job opportunities. Sectors include:
Primary metals
Aerospace equipment
Cement and gypsum
Ceramic and glass
Chemicals and plastics
Pharmaceuticals
Food and beverage
Consumer goods
Machinery and equipment
Key Drivers Of Growth
Over the past few decades, Abu Dhabi has established a robust industrial infrastructure. It is home to the region's largest steel and aluminium plants, produces up to 600 tonnes of glass per day at the award-winning Emirates Float Glass (https://www.efgme.com) and invests heavily in space technologies and manufacturing processes. Thanks to the Emirate's enabling environment, high connectivity to regional markets and the well-developed infrastructure of the Emirate's industrial parks, key players are establishing operations in the city.
Khalifa Industrial Zone Abu Dhabi (KIZAD) is key to helping the UAE achieve economic diversification (Where to Work – Free Zones – KIZAD). As the largest industrial and free trade zone in the MENA region, its comprehensive transport infrastructure provides global reach and direct links to major international destinations. It is home to over 600 companies across industries including aluminium, automotive, engineered metals, port logistics, food processing, pharmaceuticals, packaging, and polymer converting. By 2030, it is expected to contribute around 15 percent of Abu Dhabi's non-oil GDP, creating 150,000 jobs at the same time. About 60-80 percent of goods manufactured in KIZAD will also be exported. (https://www.marketresearchabudhabi.com/insight/)
KIZAD's Polymer's Park was launched in 2019 with a target of producing 300-400 kilo tonnes of plastic products a year, creating up to 7,000 jobs and contributing USD 2.5 billion to GDP by 2025. The potential export market for the Park is estimated at USD 500 million annually. (https://www.kizad.ae/2019/01/07)