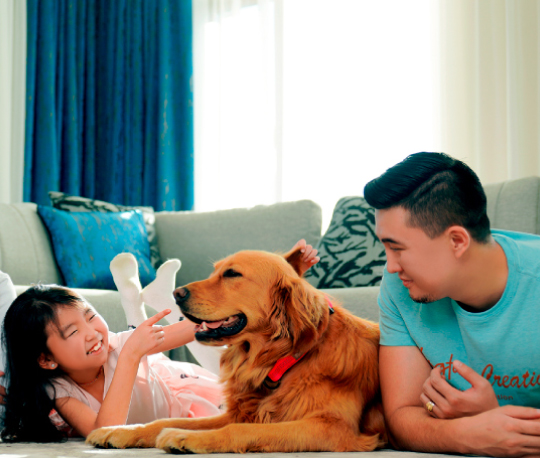 Pets are like extended members of the family, so the good news they can make the move to Abu Dhabi too. Moving to the UAE with pets is easy once you have the required documents in order. Unlike other countries, the UAE does not have required quarantine periods for animals entering the country.
You will need a pet import permit that costs AED 200 (55 USD) per pet for dogs and cats or AED 400 (108 USD) per horse. You must have this permit prior to your pet entering the UAE and it is valid for up to 30 days. Your pet must be microchipped and travel with a full vaccination record. Keep in mind that you can only bring two pets into the UAE and some dog breeds are banned. Additional fees may apply.

The number of public parks, restaurants and communities in Abu Dhabi that allow pets is rising. Things have changed tremendously in the last few years, with more people adopting pets in the capital. The UAE government has also made special efforts to increase awareness about animal rights and their protection in the country. Today, we have put together a list of pet-friendly places in Abu Dhabi that you can check out with your adorable furry friends. From veterinarian clinics to boarding facilities and pet supply retailers, Abu Dhabi has everything you need to make a great life for your pet

Veterinarians

As a pet owner, you will need to take your pet for regular medical check-ups to ensure they are healthy. Fortunately, Abu Dhabi has many veterinarian clinics with professional caregivers to cater to the medical needs of domesticated and other animals. If you are a pet owner in the capital here are some well-known vet clinics in Abu Dhabi that you can consider.

Pet-friendly Parks

Dogs need big, open spaces to exercise and run around in. Thankfully, it does not matter where you live in Abu Dhabi, these pet-friendly parks provide lots of room for them to enjoy.

Al Khubeira dog park, which opened in 2022, is a gated park featuring plenty of green spaces for your pet to run around, litterbins, pup-sized drinking resources and play equipment. The best part? It has separate areas for small and large canines. In addition, dogs are allowed to be off-leash in the park. Pet owners should note that only dogs that have been vaccinated are allowed entry at Al Khubeira Park. They must also be older than six months.

Sheikha Fatima Park has been a go-to place for pet owners since it opened. It has a separate pet area for dogs. Apart from a pet park, the space features an indoor climbing facility, splash area, skate park and play area so the whole family can enjoy a day out with your pet.

Pet Hotels

Many families include house pets who tag along for staycations and holidays. In Abu Dhabi, your pet can be pampered right alongside you.

Cloud Nine Pet Hotel is an all-in-one pet destination that not only provides boarding but also grooming services. Whether you are looking for a temporary home for your dog or a pet hotel that takes in smaller pets like ferrets, birds and rabbits – Cloud9 Pet Hotel Abu Dhabi has you covered. One of the best hotels for pets in Abu Dhabi, this place has a VIP (Very Important Pets) package for your beloved pets, where they offer luxurious pet suites, playrooms and exceptional care for the furry ones while you are away. Cloud9 employs an in-house vet that ensures all animals in their care have access to emergency and/or routine treatments. There is a pet shop in the hotel too, while the other facilities include door-to-door transportation, dog training, veterinarian and taxi services.

Abu Dhabi Falcon Hospital, despite the name, is one of the best dog-friendly spaces in Abu Dhabi. The Abu Dhabi Falcon Hospital has its own Dog Agility Park perfect for canines of all sizes. They also offer agility training, which includes a basic level for new pups and adult dogs that have never received proper training. Once your pet has completed the introductory course, you can proceed to the advanced level done off-leash.

If you will not be making the move with a pet in tow, but are looking for a companion, there are many animals looking for forever homes. A loving, four-legged friend can truly bring happiness into your home. If you are planning on adopting a cat or a dog, you can reach out to any of the foster homes in the Emirate. These organisations help to find a loving, trustworthy and permanent residence for homeless animals.

Abu Dhabi Animal Shelter for stray cats and dogs is managed by Abu Dhabi Falcon Hospital. As the first Animal Shelter in Abu Dhabi, the organisation is a testament to the great efforts of the Abu Dhabi government to set a role model for animal welfare on a national, regional and international level.

On June 1st 2010, Abu Dhabi Falcon Hospital started to neuter all feral cats and dogs in the so-called TNR (Trap-Neuter-Return) programme. All eligible cats and dogs are kept for adoption. Cats that cannot be rehomed are returned to their original place following the neutering. The Abu Dhabi Animal Shelter is located at the Abu Dhabi Falcon Hospital Site between Abu Dhabi International Airport and Al Shamkha. The treatment of the cats and dogs at the Animal Shelter is provided by the ADFH Pet Care Centre.

Volunteers are the force for change for many animals in need of care. Feline Friends Abu Dhabi is a non-profit organisation that helps to care for and rehome stray cats in the UAE. The Facebook group also hosts fundraising events to help fund their efforts.
More About Living In Abu Dhabi