Introduction to Abu Dhabi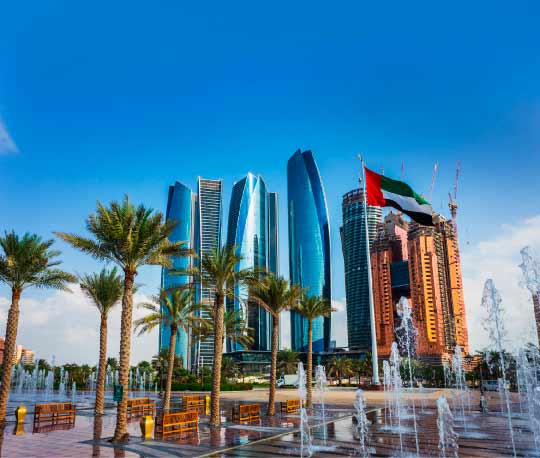 A city of contrasts; glittering skyscrapers and modern-day infrastructure, luxury resorts, thrilling theme parks and a growing world-renowned art scene are coupled with UNESCO heritage sites, traditional Arabian souks and beautiful grand palaces and mosques
Built on foundational values of openness, tolerance and peace, Abu Dhabi is part of a politically and economically progressive country that is home to over 200 nationalities. Citizens and residents enjoy one of the highest standards of living in the region with best-in-class healthcare, education, infrastructure, and commerce. The emirate has been voted the happiest city in the region and the safest city in the world, ranking as one of the top destinations for global professionals to live and work. Residents enjoy the freedom of civil rights and practice of religion.
The emirate's strategic location, diverse and sustainable economy and zero tax environment, make it an ideal destination to progress your career and improve your quality of life.
Find out here what attracts residents to one of the world's fastest-growing destination cities.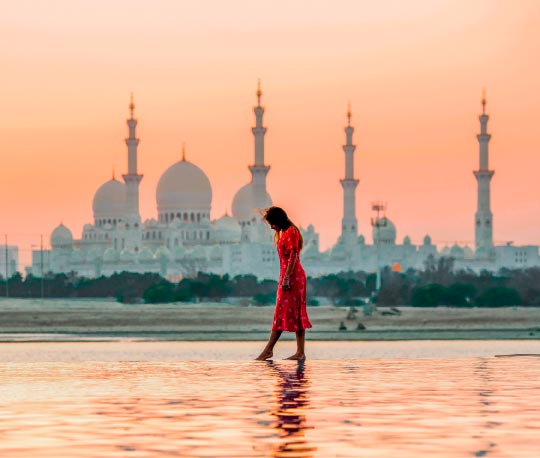 Attractions and cultural experiences
Voted the safest city in the world visit numbeo website, Abu Dhabi has an abundance of attractions and cultural experiences to inspire, engage and cater for every type of resident. (Living-in-Abu-Dhabi)
With warm weather all year round, residents and their visitors can revel in this modern, fast-paced metropolis with its luxury hotels, mega-malls, and amusement parks, or escape the city to the crystal-clear waters of the Arabian Gulf and enjoy the stunning sunsets along the sandy shoreline. You can taste local and international cuisines from casual street food to award-winning restaurants, camp under the stars in the beautiful Al Wathba desert and enjoy the natural beauty of Abu Dhabi's mangroves and desert oases.
A thriving entertainment sector
This exciting, diverse and culturally rich city holds something for everyone. Thanks to the continuous rejuvenation of hospitality, entertainment, and food and beverage outlets, there is a diverse and varied choice. As a resident of Abu Dhabi, you are living in an energetic international city constantly on the edge of newness, where best-in-class global offerings are always available. (Living-in-Abu-Dhabi)
Interesting Facts about Abu Dhabi
Abu Dhabi Fun Facts
In 2017, archaeologists discovered the oldest known pearl in the world on Marawah Island, off Abu Dhabi. The 8000-year-old pearl was on display for the first time in 2019 at Louvre Abu Dhabi.
Before its independence from British rule in 1971, the UAE was called the Trucial States
The Saadiyat Cultural District is home to some of the world's most prominent cultural institutions with more set to open in the coming years: The Louvre Abu Dhabi which opened in 2017; the Abrahamic Family House set to open this year (2022); Sheikh Zayed National Museum due to open in 2023; Guggenheim Abu Dhabi set to open by the end of 2025; and the Natural History Museum Abu Dhabi, also set to open in 2025
By 2019, the Louvre Abu Dhabi had already attracted 2 million visitors, making it the most visited museum in the Arab world
Masdar City in Abu Dhabi, also known as the "City of the Future", was initiated in 2008. An innovative and ambitious project that is the first-ever sustainable urban community with zero environmental impact
The Smart City Index 2021, ranked Abu Dhabi as the smartest city in the Middle East and came 28th overall out of 118 global cities
The Capital Gate building, Abu Dhabi's 160-metre-tall skyscraper, leans four times more than Italy's leaning Tower of Pisa
Al Ain is home to four World Heritage Sites classified by UNESCO
Sheikh Zayed Grand Mosque hosts the world's largest carpet. The 60,546-square-foot carpet is the world's largest rug and took more than a thousand weavers over a year to complete
The Yas Marina Circuit is the most technologically advanced circuit in the world
The most expensive fossil to be sold at auction - A Tyrannosaurus rex called Stan - will go on display at the Natural History Museum Abu Dhabi when its doors open in 2025. The 67-million-year-old, 11.7-metre specimen, thought to be the world's most duplicated T. rex fossil, fetched USD 31.8 million at a Christie's auction in 2020