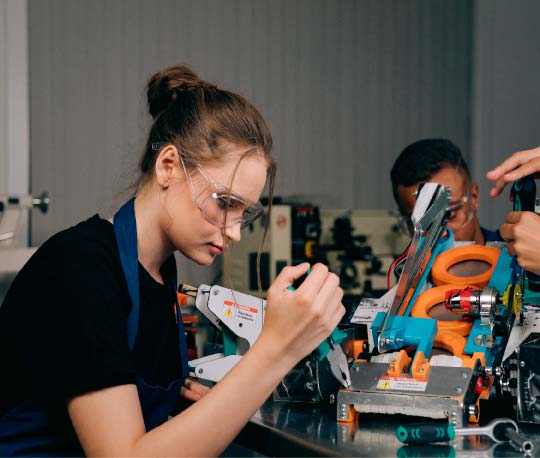 "A country's greatest investment lies in building generations of educated and knowledgeable youth." The late Sheikh Zayed bin Sultan Al Nahyan.
Education has always been one of the UAE's highest priorities. The late Sheikh Zayed Bin Sultan Al Nahyan, the founder of the UAE, believed that education is the way forward to creating an inclusive and prosperous society.
Education remains a top government priority to create a diversified, knowledge-based economy and the UAE's education sector is one of the fastest-growing in the region. Supported by government investment and public-private partnerships, Abu Dhabi offers outstanding education facilities from early years to higher education.
The quality of the UAE's education systems features in global indices including Cranleigh Abu Dhabi which is ranked in the Top 5 Schools in the Middle East and Top 100 Private Schools Worldwide (spears Global Index 2020) and the United Arab Emirates University (UAEU) in Al Ain (https://www.topuniversities.com/university-rankings-articles/arab-region-university-rankings/top-10-universities-arab-region-2020) and Khalifa University, which both feature in the Top 10 of the QS World University Rankings in the Arab Region 2021 and 2022 respectively (https://www.topuniversities.com/university-rankings-articles/arab-region-university-rankings/top-universities-arab-region-2021)
Market size
The education sector contributed AED 14.6 billion (USD 4 billion) to the emirate's economy in 2019, representing 1.6 percent of GDP (https://oxfordbusinessgroup.com/) Currently, education represents 16.3 percent of the country's AED 58.931 billion (USD16 billion) federal budget for 2022. (About-Abu-Dhabi)
The Economic Vision 2030 (Economic Vision 2030) emphasises the development of an advanced and forward-looking education system that prepares a skilled and productive workforce for the future. As such, this sector continues to experience rapid expansion.
The Abu Dhabi Department of Education and Knowledge (ADEK)
ADEK (https://adek.gov.ae/) is the main regulatory authority for both public and private education in the capital. Its goals are aligned with Economic Vision 30 and Vision 21 (https://www.vision2021.ae/en/uae-vision) which aims for UAE students to be the best in the world in mathematics, science and reading. It also aims to strengthen accreditation standards, set a framework for qualifications, and further develop the curricula to align with international standards. ADEK also manages the Abu Dhabi Research and Development Authority (ADRDA), an agency formed in November 2019 to support the expansion of research and development (R&D) activity in the emirate.
Technology and AI
Over the past decade, Abu Dhabi has launched several tech initiatives concerning innovation in education and the use of artificial intelligence in schools. These include smart learning, and a greater emphasis on technical and vocational training.
In a bid to become a vibrant research and development hub, the emirate continues to attract international private schools and higher education institutions. These include INSEAD, the Massachusetts Institute of Technology, New York University, and Paris-Sorbonne.
Higher education
As well as home-grown higher educational offerings, some of the world's best schools and universities are establishing campuses in the UAE, cementing Abu Dhabi as a regional hub for education. These global partnerships have resulted in a stronger education sector that not only caters for local needs but also attracts students from across the world.
The capital is home to more than 16 universities including:
The United Arab Emirates University (UAEU) (https://www.uaeu.ac.ae/en/) was founded by the late Sheikh Zayed bin Sultan Al Nahyan in 1976 – the oldest and largest university in the UAE. Located in Al Ain, it is a comprehensive, research-intensive university with nine colleges including business and economics, science, education, engineering, IT, medicine, and health sciences. The university has established research centres which are advancing knowledge in critical areas ranging from water resources to cancer treatments. It currently enrols approximately 14,000 students from 64 countries.
New York University Abu Dhabi (https://nyuad.nyu.edu/en/) is the first comprehensive liberal arts and sciences campus with a robust research component to be operated abroad by a major US university. The NYU Abu Dhabi campus is located on Saadiyat Island and houses 1,625 students representing more than 82 nationalities from over 115 countries (https://nyuad.nyu.edu/en/about). It sits 11th globally on the QS Graduate Employability Rankings for 2002 and 26th in the Times Higher Education World University Rankings 2021
Khalifa University (https://www.ku.ac.ae/) In 2017, the government merged the Khalifa University of Science, Technology and Research, the Masdar Institute of Science and Technology, and The Petroleum Institute under one university called the Khalifa University of Science and Technology (Khalifa University). It is a comprehensive research-focused university covering a broad range of disciplines in science, engineering, and medicine. It works in line with The UN's Sustainable Development Goals and is committed to supporting the implementation of the SDGs at national and global scales.
Mohamed bin Zayed University of Artificial Intelligence (https://mbzuai.ac.ae/) The world's first AI university. The Mohamed bin Zayed University of Artificial Intelligence (MBZUAI), is a research-based academic institution that offers graduate-level and specialised degree programs for local and international students in the field of Artificial Intelligence. It aims to support Abu Dhabi's efforts to build and sustain a knowledge economy.
The Sorbonne Université opened its Abu Dhabi campus – The Paris-Sorbonne University Abu Dhabi (https://www.sorbonne.ae/) in 2006 and awards qualifications under French regulations and standards set by the Sorbonne Université in Paris.
A skilled workforce
It is estimated that the UAE has 1.23 million young people aged 15-24 years (https://www.globalmediainsight.com/blog/uae-population-statistics/#age) The government views young people as its greatest asset and the foundation of the country's future. It is a key priority to ensure that graduates have the skills and qualifications to drive economic growth. Therefore, the emirate is encouraging more school leavers to pursue a career in STEM (Science, Technology, Economics and Mathematics) to better align the graduate workforce with the demand of future growth sectors - mainly in the fields of engineering, aerospace, IT, medicine, and applied sciences. In the 2019/20 academic year new degree programmes were introduced in fields such as AI, energy, and space science. Currently, 77 percent of UAE students are taking computer science courses and 45 percent of those in engineering courses are women (https://uaeun.org/uae-in-the-world/acceptance-understanding-inclusion/)
The UAE has also devised a National Strategy for Higher Education 2030 (https://u.ae/en/about-the-uae/strategies-initiatives-and-awards/federal-governments-strategies-and-plans/national-strategy-for-higher-education-2030) that seeks to equip future generations of students with technical and practical skills to strengthen the labour market.
Research and Development (R&D)
In addition to educational institutions, academic research has received significant investment and support. In 2019, ADEK formed the ADRDA, the emirates research authority (https://www.adek.gov.ae/Media-Centre) to position the emirate as an international standard bearer in technology and innovation, while creating a society of inventors.
The ADRDA has determined several R&D initiatives, which includes establishing five Virtual Research Institutes (VRIs) with emphasis on biotechnology, food security, sustainability, artificial intelligence and high-performance computing and advanced materials. It also includes an innovation lab, which offers a dedicated space to develop and create prototypes. These advancements will support the UAE's National Advanced Sciences Agenda 2031 (https://u.ae/en/about-the-uae/strategies-initiatives-and-awards) and 2021 Advanced Science Strategy (https://u.ae/en/about-the-uae), which aim to utilise STEM research to find solutions to future challenges and accelerate the country's economic development.