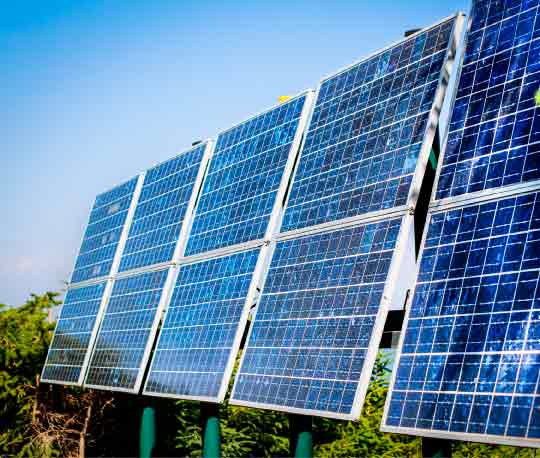 Abu Dhabi has taken a leading role in the energy sector since the country began exporting oil in 1962. Home to approximately 95 percent of the UAE's total oil reserves and 92 percent of its natural gas, (https://oxfordbusinessgroup.com/) Abu Dhabi is one of the world's leading hydrocarbons producers. The emirate's participation in the oil and gas sector spans the entire range of activities, including exploration, production, transport, refining and marketing.
Though Abu Dhabi maintains an exceptionally competitive advantage in this sector, it has developed innovative, sustainable solutions to facilitate a transition to alternative energy sources.
Economic diversification
In the country's drive to diversify to a knowledge-based economy, the UAE non-oil sector's contribution to GDP exceeded 72 percent in 2021. Furthermore, the UAE has pledged to reach net-zero carbon emissions by 2050 and announced it would invest AED 600 billion
in clean and renewable energy and key technologies (https://u.ae/en/about-the-uae/strategies-initiatives-and-awards/federal-governments-strategies-and-plans/uae-energy-strategy-2050)
UAE Energy Strategy 2050
To address the growing demand for clean and renewable energy, Abu Dhabi has outlined its commitment to creating a new model of energy sustainability in line with the UAE Energy Strategy 2050 https://u.ae/en/about-the-uae/strategies-initiatives-and-awards/federal-governments-strategies-and-plans/uae-energy-strategy-2050 The plan aims to increase the contribution of clean energy in the total energy mix from 25 percent to 50 percent by 2050 and reduce the carbon footprint of power generation by 70 percent, saving AED 700 billion by 2050. It also seeks to increase consumption efficiency of individuals and corporates by 40 percent. The UAE Net Zero 2050 strategic initiative aligns with the Paris Agreement, which calls on countries to prepare long-term strategies to reduce greenhouse gas (GHG) emissions and limit the rise in global temperature to 1.5 C compared to pre-industrial levels.
Abu Dhabi has adopted several policies and strategies aimed at addressing the impacts of climate change, energy storage, energy-efficient technologies, improving air quality, water and food security, and conserving the UAE's natural resources.
Priority fields in the Energy sector include:
Renewable energy
Clean alternative fuels
Energy storage
Carbon capture and storage
Energy efficient technologies oil, gas and petrochemicals
Renewable energy and sustainability initiatives:
The UAE will host the Conference of the Parties to the UNFCCC (COP 28) climate conference next year. The meeting of world leaders in November 2023 will seek to find solutions to the threats posed by climate change, as well as trying to create a more sustainable economic future.
Noor Abu Dhabi is the world's largest single-site solar plant (http://noorenergy.ae/) It is predicted that it will reduce the UAE's carbon footprint by one million metric tonnes per year.
Abu Dhabi has committed more than USD 15 billion to renewable energy programmes through the Masdar Initiative (https://masdar.ae/en/masdar-city/the-city/sustainability). Masdar focuses on the development and commercialisation of technologies in renewable energy, energy efficiency, carbon management and monetisation, water usage and desalination. Since 2006, Masdar has invested more than USD 4 billion in solar and wind power projects.
In 2016, Abu Dhabi built the region's first industrial scale carbon capture utilisation and storage (CCUS) facility. It captures 800,000 tons of carbon dioxide with plans to expand sixfold by 2030. The project launched as a joint venture between ADNOC (51%) and Masdar (49%), Al Reyadah is potentially the first phase of an industrial-scale CCUS network aimed at reducing the carbon footprint of the Abu Dhabi economy and supporting the expansion of a low-carbon power generation industry.
In 2017, the National Climate Change Plan of the UAE 2017–2050 was launched (https://u.ae/en/about-the-uae/strategies-initiatives-and-awards/federal-governments-strategies-and-plans/national-climate-change-plan-of-the-uae.) to address the causes and impacts of climate change, plan the transition into a climate-resilient green economy and achieve a better quality of life.
In 2018, the Abu Dhabi Department of Energy (https://www.doe.gov.ae/) was established to support long-term national strategies for a sustainable future.
The Barakah nuclear power plant (https://www.enec.gov.ae/barakah-plant/ ) is the UAE's first nuclear power station. Based in Al Dhafra, it has four nuclear reactors that can supply 25 percent of the UAE's electricity needs and is expected to prevent up to 22 million tonnes of carbon emissions every year – the equivalent of removing 4.8 million cars from the roads.
In January 2021, the UAE launched the Abu Dhabi Hydrogen Alliance (https://www.mubadala.com/en/news/mubadala-adnoc-and-adq-form-alliance-accelerate-abu-dhabi-hydrogen-leadership) comprised of ADNOC, Mubadala and ADQ, which will advance low-carbon green and blue hydrogen in emerging international markets and help build a substantial green hydrogen economy in the UAE.
For more information, read (About-Abu-Dhabi)