Cultural and Creative Industries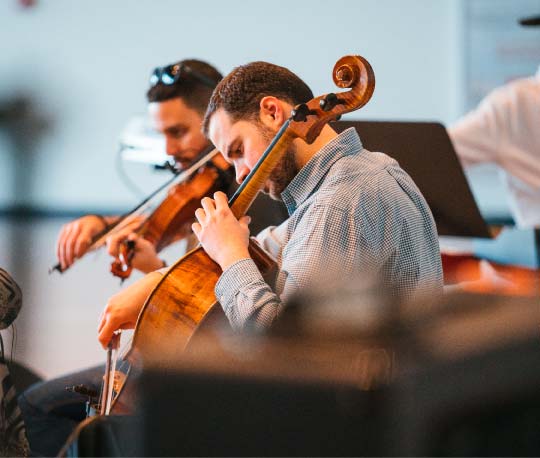 Over the past decade, Abu Dhabi has firmly established itself as a world-leading cultural city.
From first-class museums, galleries, and creative spaces such as Louvre Abu Dhabi, House of Artisans, and Abu Dhabi Children's Library, to leading educational programmes and initiatives including Culture Summit Abu Dhabi, Abu Dhabi Art, Abu Dhabi Classics, and Abu Dhabi International Book Fair, the emirate has become a leading regional producer and exporter of creative and cultural content.
Market size
One of the fastest-growing economic sectors worldwide, the Culture and Creative Industries (CCI) generate global annual revenues of USD 2,250 billion (10 percent of global GDP) and provide 30 million jobs (https://www.mediaoffice.abudhabi/en/arts-culture) The sector is growing fastest in the Middle East as its inherent value is being widely recognised.
Abu Dhabi has been investing heavily in the Cultural and Creative Industries (CCI) which lie "at the crossroads of arts, culture, business, and technology" United Nations (https://unctad.org/webflyer) Key drivers of social and economic growth and diversification, they also contribute to societal prosperity and wellbeing.
Over the past five years, AED 8.5 billion has been committed across the emirate, including flagship projects at Saadiyat Cultural District, Yas Creative Hub (Where to Work – Free Zones - Yas Creative Hub) and initiatives such as the creative visa. In 2021 the government issued a further AED 22 billion (USD 6 billion) to develop new museums as well as invest in the performing arts, music, gaming, and media sectors.
With 20,000 people already employed in the creative and cultural sector (https://www.thenationalnews.com/business/economy/abu-dhabi-to-invest-6bn-in-culture-and-creative-industries-amid-economic-diversification-push-1.1236973) the impetus of investment and partnerships is expected to create a further 16,000 jobs over the next four years, particularly in the multimedia and video gaming sectors.
The Department of Culture and Tourism (https://tcaabudhabi.ae/en/default.aspx) covers the entirety of the culture and creative sectors. Their aim is to preserve and promote the emirate's rich cultural and historic heritage and support the city's reputation as a leading global destination. Due to demand, it has recently expanded to include the dynamic and fast-growing domains of film and TV, multimedia, gaming and esports.
Multimedia
The television, film and gaming industries are gaining momentum in Abu Dhabi and the emirate has big ambitions to become a global film, TV production and gaming hub.
Support for CCI enterprises in the city has resulted in the construction of creative clusters such as twoFour54 and Yas Creative Hub. Innovative organisations under these umbrellas include Image Nation Abu Dhabi, Abu Dhabi Gaming, and Abu Dhabi Film Commission as well as training and development programmes - creative lab and Arab Film Studio. Image Nation is an award-winning film production and media company. It had nearly USD 100 million worth of productions in 2020 including the blockbuster movies, Inheritance and Al Kameen ,Yas Creative Hub is home to Abu Dhabi Gaming a collaborative initiative between Abu Dhabi government, various commercial organisations as well as content creators and gamers. The aim is to attract highly skilled talent to build a gaming and esports community that produces local content on the world's global stage.
Leading sub-sectors
Besides attracting talent to live and work in Abu Dhabi, the cultural and creative industries have a positive impact on other major sectors such as industry, construction, real estate, commerce, and tourism.
Priority fields within the Cultural and Creative industries include:
Television, film and radio
Visual arts and exhibitions
Advertising and publishing
Architecture and design
Gaming and esports
Tourism
Equestrian sports
The establishment of public-private partnerships across sectors has accelerated and supported a unified culture and creative ecosystem (https://tcaabudhabi.ae/en/who.we.are/culture.and.creative.industries..aspx) Collaborations with major international institutions including the Solomon R. Guggenheim Foundation, Berklee College of Music, Columbia University, UNESCO, and Getty Institute have complemented partnerships with global names like Unity Technologies, Disney, Paramount, Universal, Warner Bros, and CNN.
Tourism and hospitality
Tourism is rapidly developing in Abu Dhabi. The sector receives more than USD 7 billion in investment per year (https://www.investinabudhabi.ae/Sectors) and is projected to grow by more than 5 percent annually over the next decade.
In 2019, the emirate attracted over 11 million tourists. A destination of choice, with an extensive offering for residents and visitors, Abu Dhabi is a place to experience unique heritage and tradition, alongside world-class arts, and entertainment events.
The growing leisure tourism in Abu Dhabi is driving its hospitality sector which has experienced rapid and sustained growth. The abundance of world-class leisure facilities has helped the city to attract international hospitality giants like Marriott International, Hyatt, Rotana, Intercontinental Hotels Group (IHG) and Hilton. Homegrown brands such as Emaar, and Jumeirah hospitality groups have also expanded rapidly in the UAE. The capital city has more than 168 hotel establishments offering 26,000+ rooms (https://www.globalmediainsight.com/blog/abu-dhabi-tourism-statistics) Abu Dhabi has also enticed unique hotel offerings to establish in the UAE such as the world's first Warner Bros Hotel on Yas Island.
Abu Dhabi is an outstanding venue for conferences, regional and international exhibitions, trade shows and major sports events. Every year the capital hosts the Abu Dhabi Grand Prix at Yas Marina Circuit on Yas Island, Abu Dhabi Golf Championship, Abu Dhabi Food Festival, Abu Dhabi International Book Fair, Abu Dhabi Sustainability Week and many more (https://visitabudhabi.ae/en)