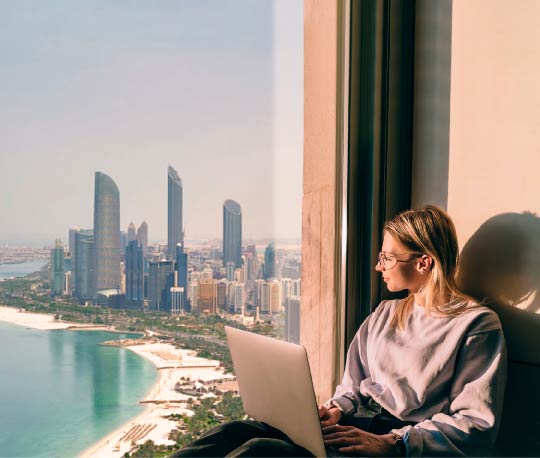 Thanks to the emirate's consistently low unemployment rate (Trading Economics, 2022), Abu Dhabi's has enjoyed great economic expansion and diversification, especially in the past two decades.
The Abu Dhabi job market has plenty of employment opportunities for people with diverse skills and talents. You can search for a job by registering on job portals, attending online job fairs, looking through classifieds, signing up with recruitment agencies and connecting with head-hunters.
Job-seeker Websites
Use UAE job sites to search for employment opportunities in all categories throughout a variety of sectors. Along with recruitment agencies, there are various job portal sites helping job seekers and organisations in the process of recruitment. Many also have additional resources like career coaching and CV tailoring. The following list features some of the leading job portals in the UAE:
Understanding the Market
Before you begin your job hunt, it is essential to do some homework and learn about Abu Dhabi's cost of living, UAE Labour Law sand the corporate culture. Dig deep into all sides of the business or job opportunity that you are interested in. Look at reliable company reviews online to get an idea of trending salaries to negotiate reasonable remunerations better.
Business Language
Although Arabic is the official language, it is not mandatory for finding a job in the UAE's multilingual market. In fact, Arabic and English are the most common business languages for professionals across the city.
Networking and Building Relationships
Use your existing network and start by contacting people you know. Living in a globalised world means you probably already have friends or acquaintances in different countries. Joining an industry association before leaving your home country might also be a good idea to start fostering new relationships. Use platforms such as Facebook or Meetup to find and build local networks and communities.
Global Offices
Approach companies and exporters in your own country who have offices in Abu Dhabi. Another option is to contact relevant companies and organisations in the UAE directly.
Professional Associations and Groups
There are many networking groups, clubs and professional associations based in Abu Dhabi and the wider MENA region that are dedicated to business and individual professions. These groups will have members with similar credentials or professional interests making it a great source for networking. By joining, you will also gain access to the group's events, publications, online resources, membership directory and consultation services.
Some of the major business groups and networks in Abu Dhabi are: