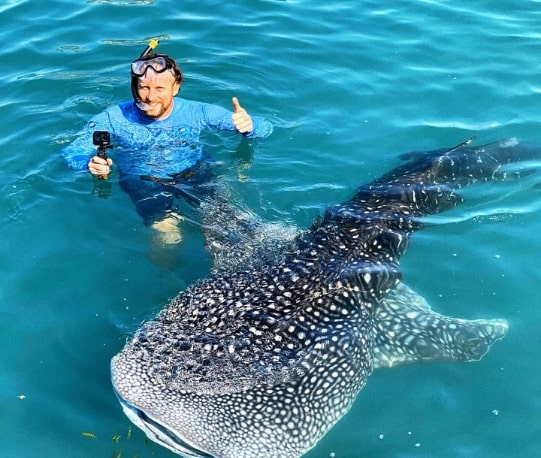 Manager of Marine Policy at The Environment Agency – Abu Dhabi
The thing that I love about Abu Dhabi is that it has an old school charm that showcases tradition but has a vision for the future.
Stunning skyscrapers, luxurious hotels, superb sporting facilities; Abu Dhabi has a well-earned reputation as a city of the future that continues to develop at a rapid pace.
And while the blinding lights of the capital, shiny buildings and malls may be the image that resonates on postcards, instagrams and fridge magnets, the beauty of the natural environment, flora and fauna are the aspects that still provide those awe-inspiring emotions for those who call Abu Dhabi home.
"The thing that I love about Abu Dhabi is it has an old school charm that showcases tradition but has a vision for the future," says Winston Cowie, Manager of Marine Policy at The Environment Agency – Abu Dhabi (EAD). Hailing from New Zealand, a country famed for its stunning scenery, he says Abu Dhabi's natural beauty can rival anywhere else on the planet.
"Abu Dhabi is a beautiful place. It is an island archipelago and one thing that many who move here don't know about Abu Dhabi is the sea. The sea has incredible habitats that are packed with a diverse spectrum of marine life; coral sea grass; mangroves; charismatic aquatic species like dugongs, sea turtles, dolphins; and you can see them whenever you go out on the water. A truly beautiful environment and a wonderful safe place."
A man with a phenomenal passion for nature and protecting the environment, Winston says local Emiratis and residents' sense of duty to the natural habitat has seen Abu Dhabi implement some of the most robust environmental and conservation programmes on the planet.
"One of the biggest misconceptions about the UAE is that there is a lot of uncontrolled coastal development, and that couldn't be further from the truth. We have a 25-year-old environmental impact assessment procedure that protects all of our critical habitats, mangroves, sea grasses or corals.
"When there have been issues, for example coral bleaching, EAD and the country has responded to the challenge. EAD is putting a million coral fragments on the reefs out in the Gulf to rehabilitate it via four coral nurseries to support it. We have stable populations of dugongs and sea turtles thanks to marine programmes that have been active for 20 years which really shows the regulations and policies that are in place are working and have for a long time.
"But on top of the government led strategies, we have a really passionate community that takes care of its surroundings. Saadiyat Beach is an example of community involvement where volunteers take part in turtle patrols and participate in regular beach clean-ups so that the nests are protected from rubbish and pollution that may be left there or that washes ashore.
Such is the importance placed on the environment in the emirate Winston says there has never been a better time for those looking to gain employment in the sector.
"There are huge opportunities for those looking for a career in the environmental sector in Abu Dhabi. Environmental care is a massive pillar of the government and with their stated strategy of being Net Zero by 2050, we are going to need all hands on deck in every industry to achieve that."
And while the prospects of employment will attract many, Winston, who moved to Abu Dhabi with his family on the recommendation of friends, says the opportunities for entertainment and adventure during one's down time is just as vast.
"We have lived here in Abu Dhabi for nine years and we absolutely love it. It is a great place for my children to grow up. They have a diverse bunch of friends, are globally and culturally aware and they have the opportunity to travel to see new places and have new experiences.
"As a family we regularly get out on the boat. The kids love their water sports like wakeboarding so we spend plenty of time out on the water where they can go snorkelling as well. On land, there are great desert camping spots where you can relax underneath the stars and the kids can climb sand dunes and have a great time. And then there are also the mountains where you can camp, hike and see beautiful old villages that are 500 years old.
"The choices are really endless."